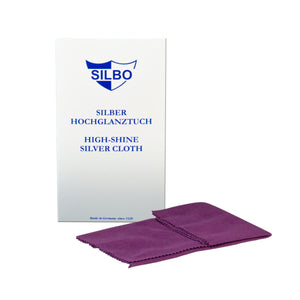 Silbo jewelry cleaning cloth for silver with tarnish protection 30 x 24 cm
The soft care cloth with special impregnation cleans and polishes silver and offers the best possible protection against tarnishing in a single operation.
The best results with heavily tarnished silver can be achieved by moistening a corner of the cloth to dissolve oxides. Then polish with the dry cloth. During use, the silver high shine cloth turns black but retains its cleaning, polishing and anti-tarnishing properties.
It must not be washed.
Colour

:

 

Purple

Contents

:

 

1 piece

Material

:

 

Coton

Product area

:

 

Cleaning & care

Shape

:

 

Care cloth

Size

:

 

30 x 24 cm