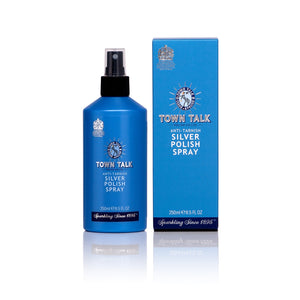 Silver polish spray Town Talk 250 ml
A convenient spray ideal for cleaning more heavily tarnished items of silverware. Its unique formula incorporates anti-tarnish protection to keep your silver shining bright for longer.
How to use:
Shake the bottle well. Spray the polish onto the silver and clean with a soft cloth to remove all traces of tarnish. Rinse with water if a build up of polish accumulates and polish dry with a soft, clean cloth.