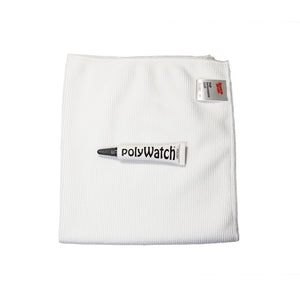 Polywatch acrylic polishing cream Reliably removes scratches from acrylic watch-crystals:
Proven millions of times and globally the No.1 Repair-Polish for acrylic watch crystals Professional results, also for deeper scratches Series Award-Winner in international magazines TÜV certificate for proven effectiveness Easy and quick application Application saves expensive repairs and provides value retention Superior effect due to PDT (Plastic Deformation Technology).
Contains: 5ml
The 3M Scotch-Brite High Performance Microfibre wipe features a patented Fibre combination of polyester and nylon.
This enables an extremely Economical and efficient cleaning with little effort.
Properties:
– For dry, wet and also wet cleaning
– Removes oil, grease, dust and liquids
– Cleaning with and without detergents
– Gentle cleaning
– Machine washable up to 95 °C
– Lint free Applications: Stainless steel, chrome, glass, glasses, etc.
In many cases the use of cleaning agents can be dispensed with.
Wash thoroughly before first use.
Dimensions: 32 x 36 cm
Colour: white