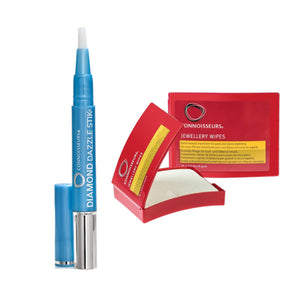 Connoisseurs Diamond Dazzle Stik® makes cleaning diamonds and precious stones a breeze.
Diamond Dazzle Stik\'s jewelry cleaning gel contains micro-fine cleansers and polishing agents that bring radiance and luster to diamonds.
Diamond Dazzle Stik formula contains a special polymer that fills tiny scratches in settings. It is formulated to clean diamonds, precious stones, platinum and gold jewelry settings, and regular use of Diamond Dazzle Stik in cleaning jewelry will improve its overall appearance.
Connoisseurs jewellery dry wipes for gold, silver
Disposable wipes, for silver, gold, precious stones & fashion jewelery. Pre-cut and easy to use wipes, with dry impregnation.
How to use: Gently rub the surface to clean and restore shine.
Content: 25 pc.
Dimensions: 12,7 x 7,6 cm