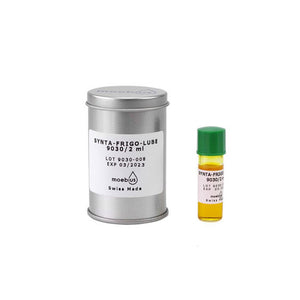 Moebius 9030 is 100% synthetic fluid thin oil based on ether and aliphatic alcohol, exhibiting an excellent behavior under low temperatures conditions. Also very effective for use under wet conditions. With excellent lubricity and outstanding grip, this oil is ideal for high precision micromechanics.
Field of use: precision mechanics, watches, timers, measuring instruments, tools…
For lubrication of fast moving components with low torque, such as pendulum suspensions, escapements, certain wheels, etc.
Technical details:
Viscosity at 20 °C: 60 cSt
Pour point: -45 °C
Density at 20 °C: 0.880
Range of temperature: -40 bis +60 °C