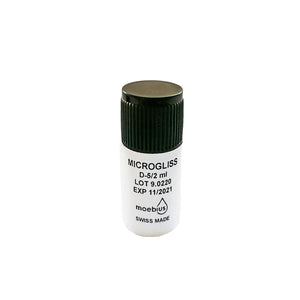 Moebius Microgliss D-5 watch oil is a high-quality Swiss watch oil of unvarying quality which neither resinifies nor spreads. The "Microgliss D-5" is ideal for places subject to high pressures such as bearings, for lubricating rotor bearings in automatic watches and centre wheel bearings.
Technical details:
Viscosity at 20 °C: 1200 cSt
Pour point: -18 °C
Density at 20 °C: 0.897
Range of temperature: -3 to +80 °C
* the packaging will not have the MOEBIUS label, because we buy in bulk/large sizes and then repackage it in smaller packaging. This way we can provide better pricing for smaller packages. We believe a small amount of the oil is enough for most watchmaker for several months.