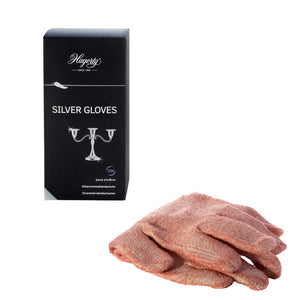 Hagerty silver gloves
Specially treated silversmith's gloves that clean, polish and protect silver from tarnish. For silver and silver-plated items … long-lasting lustre.
• Silver gleams in that professional silversmith's way
• Cleans, polishes and protects silver from tarnish
• Brings back the shine to silver and renews anti-tarnish protection
• Gloves permit a firm hold and your hands stay dry and clean.
Instructions for use:
• Slip on the gloves at the first sign of tarnish
• Dust silver while rubbing lightly but thoroughly
• The tarnish barrier is replenished, giving silver a longer-lasting gleam
Contents: 1 pair