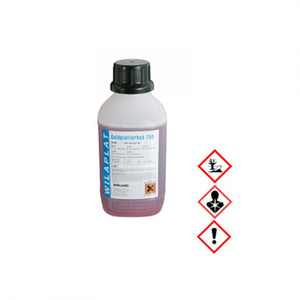 These baths are used for acid electrolyte for decorative gold-plating of non-ferrous metals and silver alloys with differing deposition alloy and thus colour. The range of materials able to be plated can be considerably increased by a preparatory application of the pre-plating gold bath AC3 (item No. 695655), e.g. steels
The bright gold-plating baths 750 are used in traditional electroplating units such as the WILAPLAT system.
The pH value is adjusted when necessary either by citric acid or caustic soda. Before electroplating, surfaces to be treated must be cleaned, and free from grease or oil.
Gold content 4.0 g/l
Temperature 20 – 30 °C
Exposure time 10 – 45 minutes
Voltage 2.8 – 3.5 volts
Current density 1.0 – 2.5 A/dm²
Deposition 22 mg/Amin
pH-value 3.5 – 4.5
Agitation electrolyte or goods movement
Anodes titanium, platinised
Bath material glass, acid-resistant plastic
Density 16 – 17.5 g/cm³
Hardness 120 – 145 HV
Layer thickness &< 10 µm Further details are to be found in the EEC