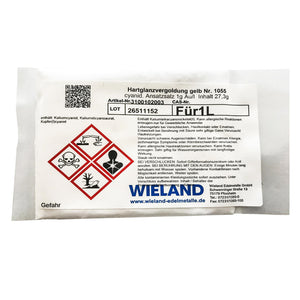 These baths are used for cyanide electrolyte for decorative gold-plating of non-ferrous metals and precious metal alloys with differing deposition alloy and thus colour. The relatively thin layers are characterised by being very hard. The spectrum of materials to be coloured can be considerably increased by a preparatory application of the pre-plating gold bath AC3 (item No. 695655), e.g. steels.
Hard bright gold-plating baths are used in traditional electroplating units. A surface which has been
degreased is essential. By contrast to gold plating, the gold colouring bath only leaves a thin layer of gold of a maximum of 0.1 to 0.25 mµ.
Gold content 1.0 g/l
Temperature 50 – 60 °C
Exposure time 20 – 30 s
Voltage 6 – 8 volts
Current density 5 – 8 A/dm²
Agitation electrolyte or goods movement
Anodes stainless steel
Bath material glass, plastic
Hardness 130 – 180 HV
Layer thickness max. 0.25 µm
Deposition 20 mg/Amin
Further details are to be found in the EEC – safety data sheets.
*** Please note ***
This product is part of the CLP (Classification, Labelling and Packing) Regulation.