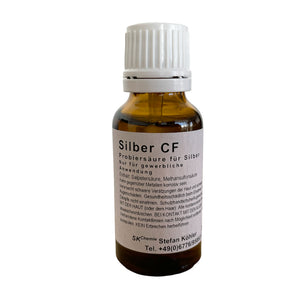 The chromate-free silver test acid is applied to the touchstone by means of a bar test.

Application - Silver Test:
Silver CF can be applied to the test object as well as by means of a bar test on a test stone. In the presence of silver (pure silver, silver-plated surfaces) the drop turns white after a few seconds or the line on the test stone overlaps with a clearly visible white coating.

Application on test stone:
After a few seconds the lane is covered by a clearly visible, white surface (haze).

Application directly on the object:
After a frew seconds the drop of silver CF visibly appears. It forms a green turbidity caused by the copper-containing portion.

Decisive is the resulting turbidity of the drop or the white coating on the test line.