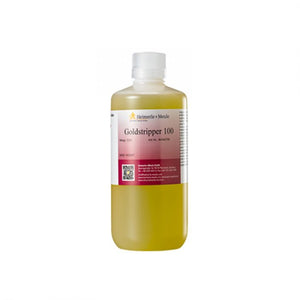 Goldstripper 100 is a very fast gold stripper which works at room temperature and has a high gold absorption rate. It enables stripping of gold and gold alloys from almost all basic material without attacking iron, nickel or its alloys. Copper and copper alloys must be removed from the stripper solution immediately once their gold coatings have been removed.
Tank material: PE, PP or stainless steel (V2A)
Bath filtration: not required
Movement of cathode rod: recommended
Exhauster: required
Procedure:
Make-up of the stripping solution should be carried out below an air exhauster. Into a thoroughly cleaned tank warm (max. 50 °C ) deionized water in the quantity which is required for the desired bath volume is filled. The required make-up chemicals are slowly put into the water while stirring constantly. The solution must be stirred until the salts have been fully dis-solved.
Process overview:
Prerequisite for an even stripping result is an intensive pre-treatment of the surface. This should be carried out using an ultrasonic cleaning bath made-up with Ultrasonic cleaning concentrate ULTRA 3000 and Electrolytic degreasing bath Type A. Multistate rinsing in water is required after operation of each of the respective process baths.
Process parameters:
Bath temperature: 18–25 °C
Stripping rate: ca. 1.2–3 µm/min
(in order to increase the stripping rate the bath temperature can be raised)
PLEASE check with our team before ordering, on shipping restrictions as we may NOT be able to ship it due to shipping restrictions based on region.